Company Profile
| | |
| --- | --- |
| Membership: | On ECPlaza since 2013 |
| Business Type: | Manufacturer |
| Location: | Gyeonggi-Do, Korea |
| Product Category: | Skin Care Set |
| Main Item / Product: | cosmetic material, BIO cosmetic |
| Keywords: | Cosmetic Material, Bio Cosmetics, Cosmetic |
| Main Target Region: | World Wide |
| Year Established: | 2016 |
---
[Company Introduction]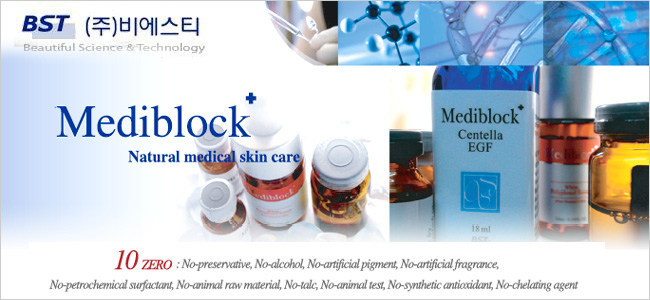 BST, established in May 2000 mainly with skin technology, bio engineering and natural science, is developing functional cosmetics for medical skin purpose based on microorganism control technology, natural chemical technology, enzyme engineering technology and anti irritation, anti inflammation technology. BST is still working on product for new raw material, newly manufactured material, which contains no preservatives and no synthetic ingredient like fragrance, dyes, surfactant etc. is "Functional cosmetics specializing in clinical use, medical skin care" to improve various troubled skin in the hospital.
Main Products
Cosmetics : Functional cosmetics with Natural Preservatives
Natural Preservatives : Natural Preservatives made with herbal extracts
Vision Slogan
We are the company that is devoted to research, differentiated marketing, creative mindset and high quality products.
[Company History]

2015 .12
Selected as a DB construction company on the enterprises
that hope to attract foreign investment (KOTRA).
Selected as occasional development project of industrial core
technology (Korea Institute of Industrial Technology Evaluation
Management Service of Ministry of Trade, Industry and Energy,
the total project cost: 472 million won / Project number: 10060386
Project title: Development of a natural preservative for foods
consisting of cordycepin by biotransformation)

2015 .11
Selected as a Promising Export Firm
(Gyeonggi Small and Medium Business Administration)

2015 .10
Japan's cosmetics materials distributor agreement
Selected as a Promising Export Firm
(Gyeonggi Small and Medium Business Administration)

2015 . 9
US patent application (application number: US14 / 778,082)
Composition and manufacturing methods for manufacturing
cosmetics according to vegetable material extracts
and fermentation products

2014. 11
Applied the patent on the cypress fermentation composition
comprising a carboxy – generating material for improving
the flow of blood and treating acne, and its manufacturing
methods (10-14712)

2013 .12
Company relocated
(Anseong, Gyeonggi-do ->Seongnam, Gyeonggi-do)

2010. 3
Investment contract signed with Japan's IWASE COSFA Co., Ltd

2010. 1
Incorporated in China

2009.6.1
Company name changed to BTS Inc.

2008.12
Won Excellence Awards at 2008 Korea Health Industry
Technology Awards (food industry)

2008.10
An exclusive supply contract for natural antimicrobial agents
signed with Japan's IWASE COSFA

2008. 1
SME Technology Innovation Inno-Biz certified

2006.
Seoul strategic industry innovation cluster development project
[Biomedicine material development, 1.3 billion won
to be supported for five years]

2006.
Natural antimicrobials (BMB) supplied to Nanyang,
Dong Wha Pharm. Co., Ltd. and LG Household & Health Care

2003. 8
Natural antimicrobials (BMB) supplied to Pulmuone Co., Ltd.

2002.12
All products supplied to Samsung Medical Center

2002.10
Cosmetics manufacturing business registered

2002. 1
Company-affiliated Research institute licensed

2001.12
Awarded in Gyeonggi-Do Business Incubator
Company Competition (a Participation Prize)

2001.10
Registered as a venture company [Technology Assessment
by Korea Health Industry Development Institute]
(Cosmetics venture No. 1)

2001. 5
Small Business Venture (functional cosmetics registered)
[Food and Drug Administration]

2000. 5
Bio Skin Tech Co., Ltd. founded (May 26)

Contact Information
Company Name
Bioskintech Inc.
Contact Person
Han-sol, Bok
Address
B104, Woolimlions's Valley 2 B-Line, Sangdaewon-dong, Jungwon-gu
City/Area
Seongnam Si
State/Province
Gyeonggi-Do
Country/Region
Korea
Telephone
+82 70-8796-5368
Website
Website on ecplaza.net